Technology
Technology of the Bulgarian backpacking rucksacks Tashev

Air Mesh
This breathable fabric is designed for areas that are in direct contact with the body - shoulders, back, lumbar belt. Special 3D fabric provides air flow and ventilation, allowing the skin to breathe and reducing perspiration. It consists of 3 layers - top layer grid connected to the basic layer by millions of polyamide fibers, forming a kind of spider-web in the middle, through which air passes freely when the backpack is on. Removes sense of "bonding" with the backpack and dramatically increases comfort. Advantages of breathable backs are mostly appreciated during long trekking in hot weather.
Cordura
CORDURA® fabric is what many of the most respected brands, retailers and militaries around the world use when they need to make a product that's durable, versatile and reliable. Constructed using high tenacity fiber technologies, weight for weight, CORDURA® fabrics are exceptionally durable. Fact is, no matter the application, our fabrics are "best-in-class." But more importantly, they have to pass our own stringent test criteria before they can earn the CORDURA® brand name. They're available in a wide range of weights – from ultra lightweight to heavy weight. And CORDURA® fabrics come in many different constructions and textures. All in all, they're the fabrics that make strong, long-lasting products even tougher in several categories - from outdoor gear and workwear to luggage, military and upholstery.
Tashev import Cordura® from a DuPont®-licensed factory in Germany. The fabric has lightweight silicon impregnation and Teflon® coating - protection that further strengthens tha fabric and makes it easy for maintenance.
Worldwide brands usually use Cordura® for the backpack's heavy-loaded zones - bottom, back. Tashev backpacks are ENTIRELY made of Cordura® fabric.

Duraflex
Buckles and plastic parts DURAFLEX® - made of ACETAL, which changes its structure only at -50°C, which makes them highly tolerant to high loads and low temperatures. Brand DURAFLEX® is a world leader in technology for plastic bag-parts for decades. Established in the USA, it now works worldwide, seeking to offer local production in several countries worldwide. TASHEV provides DURAFLEX® details from an Italian factory with traditions, which guarantees high quality of plastic parts in backpacks.

YKK
Japanese zippers brand YKK® is undoubtedly the best in the world. The spiral is resistant to wind-driven tension and continuous use in different conditions - very low and very high temperatures, moisture, dust, dirty environments, etc. The life of zippers depends not only on the load, but the intensity of use, i.e. the number of openings and closings. In this respect, YKK offers over 10 times longer lifespan than any other zipper. Look for the YKK logo on the slider.

Vario Back System
VBS system - adjustable support system for large volume (55-100 liters) backpacks, designed for long wearing of heavy luggage on difficult terrain. Provides maximum level of stability and comfort through precise positioning of the backpack on your back. This is done by sliding the carrier block of aluminum construction and relaxation / tightening of the regulators. Thus, comfort is guaranteed for both very low and very high people. Each bagpack comes with a detailed instruction for adjustment.

Air Ventilation
AV system /Air Ventilation/ - bearing system with static control. Applied in medium sized bags (40-45 liters), intended for lighter and / or shorter hikes up to 15 kg. luggage. AV unconstrained bearing system allows air to circulate through the vertical vent along the back. So the free breathing of the body reduces perspiration and increases comfort. Each bagpack comes with a detailed instruction for adjustment.

Integrated rain cover.

H2O-Camelback option consists of three elements:
inside pocket, hole and ring strap
Technologies for sport sunglasses of winter glasses Google
ADJUSTABLE ELASTIC STRAP
Elastic strap included in the set can be exchanged with temples giving new possibilities of using sunglasses during extreme sports activities. Smart fastening system allows to change sunglassses temples for adjustable elastic strap.
ACETATE
Acetate is one of the highest quality materials made of a polymer derived from natural cotton fibers. The ski goggle inner lenses made of acetate are flexible and maximize anti-fog protection. Acetate for GOG ski goggle lenses is supplied by the best suppliers from Japan and Italy.

AIR JECT VENTILATION
Modern ski goggle styles equipped with vents. Lens ventilation system allows fresh air to circulate easily inside the ski goggles. The vents let the cold air inside the ski goggles and force the warm air out. AIR JECT VENTILATION system protects ski goggles from fogging up. Staying in movement is the best way to keep the air flowing.
CHROMATIC G-LENS
Photochromic lenses with color mirror coating fficiently adapt to various light conditions. Under the influence of solar radiation CHROMATIC lenses are ranging from cat. 1 to cat. 3. The photochromic lenses guarantee permanent viewing comfort in various shades of light. Additional mirror coating guarantees better UV protection and significantly reduces reflections to improve visual comfort.

CROSS COUNTRY PRO
These sunglasses are suitable for cross country ride. They don`t fog up and are more condensation-resistant - with good airflow behind the lenses. Good venting, excellent optics, rugged frames, and anti-fog coating on the lenses.

CE
The product meets all European quality requirements.
CONTOURED FOAM
Contoured soft foam inserts adapt closely to the face shape, giving the feeling of comfort even while long-term using. Recommended for cycling, skiing, cross country skiing, jogging and all activities associated with intense movements.

DUPLEX G-LENS
All GOG ski goggles are equipped with double lens. This unique double lens construction create a thermal barrier to prevent the internal surface from fogging up while skiing.

FOR KIDS
This symbol indicates that the model is suitable for children.

FOG BLOCK G-lenses
Unique FOG BLOCK technology maximally protects lenses against misting over. A hydrophilic coating permanently bonded to the inner lens absorbs moisture before fog emerges.
Warning: do not expose inner parts of the lenses to any hard tools and surfaces in order to avoid scratching and damaging of FOG BLOCK coating. It is necessary to protect them from dirt, dust or other pollutions which may damage the coating.
FLEX G-SYSTEM
Sunglasses equipped with FLEX G-SYSTEM have flexible hinge part. Increased up to 110° deflection range guarantees wear comfort.
G-LENS CHANGE SYSTEM
Interchangeable lens system gives opporunity to adapt sunglasses to actual weather and light conditions. The GOG sunglasses with easy and intuitive LENS CHANGE G-SYSTEM include at least one additional set of lenses and useful hard case. Each sport sunglasses set with interchangeable lenses includes dark lenses for strong sunlight. Depending on style the set may also include clear lenses protecting eyes from wind,dust, insects or contrast lenses (yellow/orange/pink) that are perfect choice for weaker sunlight.
HANDMADE METAL
Handmade sunglasses made of top quality metal to guarantee maximum comfort. Perfect for everyday use. Very durable and hypoallergenic material.
HDX G-LENS
Sport lenses in HDX G-LENS technology enhance color contrast to improve the eye comfort and visual acuity. Sharp vision helps to recognize details in the environment to ensure better sport performance and safety of athletes. HDX contrast lenses maximize visual experience of all kind of outdoor sports.
HEAD-FIT
HEAD-FIT technical solutions enable to adjust sunglasses frame to individual head shape. Sunglasses nose pads and temple ends are made of smart materials that remember its shape. Sunglasses nose pads and temple ends regulation is easy and precise.
HYTREL FRAME
To improve safety and comfort of the youngest users, kids sunglasses frames are made of modern thermoplastic elastomere named HY TREL. This material ensures very high flexibility and durability.
HYDROPHOBIC
Special coating designed to repel water from the lens surface. Water on the hydrophobic lens forms a water droplet and run-off easily without causing visual distortion. Due to lenses with hydrophobic coating are anti-static, they require less cleaning, as they are less likely attracted to dust.

LENS CHANGE G-SYSTEM
This system provides the user with the possibility of changing lenses easily with the variety of lenses to adapt glasses to actual weather conditions. Goggle sunglasses equipped with LENS CHANGE G-SYSTEM include at least one additional pare of lenses.
MULTIPLE-ANGLE TEMPLES
Extraordinary hinge construction allows temples to adjust the position of glasses to the unique user's face and head shape.
MAGNETIC LENS
MAGNETIC LENS is an innovative magnetic technology that makes ski goggle lens replacement incredibly fast and accurate. The user can easily adapt ski goggles to changing visibility and weather conditions.
NIGHT VISION
Ski goggles with NIGHT VISION clear lens provide maximum comfort on ski slopes illuminated after dark. Clear lens cat. S0 lets through from 80% up to 100% of visible light to increase the visibility at night. Clear lens protects face of the user from difficult weather conditions e.g. wind and snow.
OPTICAL RIM G-System
Optical rim allows corrective glasses to be fixed according to the individual needs of the customer. It is provided with all the models marked with the letter "R", e.g. T510R. Sunglasses and ski goggle styles designed for people with vision defects. Plastic optical rim for corrective lenses is installed inside the frame.
OTG OPTICAL FRAME FRIENDLY

The solution for prescription glasses wearers who experience difficulties using the ski goggles. The soft and properly shaped foam inside the ski goggles provides additional space for prescription glasses.

POLARMATIC G-LENS
An innovative combination of photochromic and polarized technology in one lens to provide the best visual comfort in various weather conditions. The POLARMATIC lenses automatically adapt to light conditions under the influence of solar radiation ranging from cat. 2 to cat. 3. At the same time the lenses block irritating glare from light reflecting off flat surfaces.

PC polycarbonate
The glasses are entirely made of carbon fibre (polycarbonate). Lenses made of polycarbonate are not only light, but also very tough and resistant to scratches. Thanks to the multilayer character of such lenses their thickness is ideally even, which eliminates all deformations and vision disorders.

This material makes the frames of the sunglasses light and resistant to mechanical damages.

POLARIZED PROTEC G-LENS
POLARIZED PROTEC G-LENSES which are used in GOGGLE sunglasses have two different thicknesses: 0.75 mm and 1.0 mm. The polarizing effect reduces irritating glare and light flashes while increasing safety in common situations when the use of sunglasses is required. Sight comfort is guaranteed by intensifying colour recognition and sight sharpness. Most of GOGGLE sunglasses are provided with polarized lenses with 1.0 mm thickness.
REFLEX G-LENS
Sunglasses equipped with mirror coated lenses available in various color options. Special coating guarantees better UV protection and significantly reduces reflections to improve visual comfort. Sunglasses with REFLEX G-LENS are widely recommended in heavy sunlight.

SUPER DARK 4 G-Lens
Styles with lens category 4 let 3-8 % of light through and are designed to be used in very strong sunlight, mainly on glaciers and in the mountains. Lenses with "4" category are not suitable for driving and road use.

TR-90 - Grilamid
TR90 Grilamid is the most modern material, which is used in manufacturing of advanced sport sunglasses. Grilamid is distinguished by its increased flexibility in comparison to polycarbonate as well as by outstanding durability. Grilamid sunglasses frames are ultralight and hypoallergenic.

TPU thermoplastic polyurethane
Thermoplastic polyurethane is an exceptionally flexible material. TPU maintains its properties in a wide temperature range. It is distinguished by extremely high mechanical properties and resistance to various weather conditions. All this makes it an ideal material for extremely difficult conditions.
TPU FRAME
Thermoplastic polyurethane is an exceptionally flexible material. TPU maintains its properties in a wide temperature range. It is distinguished by extremely high mechanical properties and resistance to various weather conditions. All this makes it an ideal material for extremely difficult conditions.
TRANSMATIC G-LENS
Photochromic lenses efficiently adapt to various light conditions. Under the influence of solar radiation TRANSMATIC lenses are ranging from cat. 1 to cat. 3 in sport sunglasses and from cat. S2 to cat. S3 in ski goggles. The photochromic lenses guarantee permanent viewing comfort in various shades of light.

UV 400LENS PROTECTION
This system protects the eyes of the user from the harmful effects of the sun's UV rays. All lenses with UV protection block 100% of UVA, UVB, and UVC rays, and harmful blue light to 400 nm. These harmful rays which pass through the ozone layer lead to tanning are a leading cause of serious injury of vision and skin cancer - all great reasons to block them out. UVA rays to a length of 400 nm are with the highest concentration in the afternoon hours of the day, regardless of season.

USEFUL PROTECTIVE CASE
Each pair of glasses is equipped with comfortable and hard protective case for storage of sunglasses to prevent scratching the lenses.

USEFUL PROTECTIVE BAG
Each pair of sunglasses comes with a comfortable and soft protective bag for storing sunglasses and protect the lenses from scratching
Technologies of Husky tents
Technologies of hiking and hunting shoes Alpina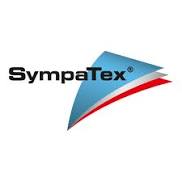 SympaTex® fabrics are branded waterproof and "breatheable" fabrics (leather or textile) made or licenced by SympaTex® Technologies GmbH. They all feature a waterproof, windproof and breatheable membrane, laminated to fabrics (leather or textile) either on its inner surface or sandwiched between two fabric layers (often marketed as "3 layer laminate"). The latter system offers greater durability, by better protecting the integrity of the SympaTex® layer from abrasion to both the outside and the inside of the garment or footwear. The SympaTex® membrane like Gore-Tex® does not allow water to get in from the outside, but water vapour molecules are transported through the membrane from the inside to the outside by way of an absorption & evaporation process. This moisture transfer through the membrane is what is referred to as "breatheability".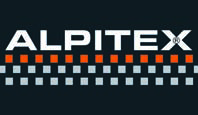 ALPITEX
The Alpitex membrane has been developed by Alpina engineers on the basis of long experience and constant user feedback. The membrane is water-resistant and allows for good boot ventilation as well as comfort for the foot.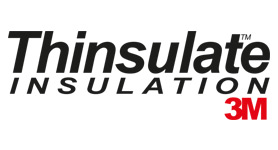 THINSULATE
Compared to standart boot linings,the Thinsulate insulation system guarantees conditions for the feet that are twice as warm as other boots.The feet can breathe and regulate the natural physical feeling of the foot.Consequently they stay warm even in unusually wet weather conditions.
Nearly twice as warm as any other insulation, including down, Thinsulate is breathable and washable. It absorbs less than 1% of its weight in water and stays warm in damp conditions.


VIBRAM
The respected Vibram sole brand guarantees a steady step on all types of surfaces. Its firmness, supplemented by the appropriate back and front pieces, makes the sole suitable for use with automatic crampons.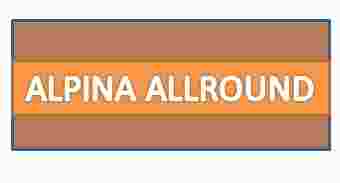 ALPINA ALLROUND
Sole, developed by Alpina - produced in the factory, which manufactures Vibram, with the same qualities, providing better traction and stability.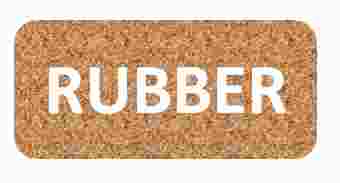 RUBBER
Outsole of natural rubber, which ensures durability, excellent support and traction on rough terrain.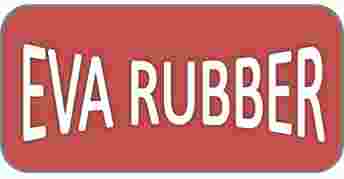 Outsole of natural rubber that is treated as other thermoplastic materials; a polymer -elastomeric material which has flexibility and softness. It is known as ethylene vinyl acetate and a copolymer of ethylene and vinyl acetate.
EVA soles are the lightest of all solid soles. They are fastened to the top part with a special adhesive technology at very high temperature.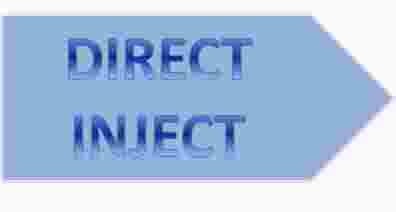 DIRECT INJECT
Technology which injects sole directly to the shoe. This provides greater strength, water resistance, softness, durability and comfort. Lightness, flexibility and high durability thanks to the technology by which the shoes and soles are connected without glue or stitching. Light and robust sole.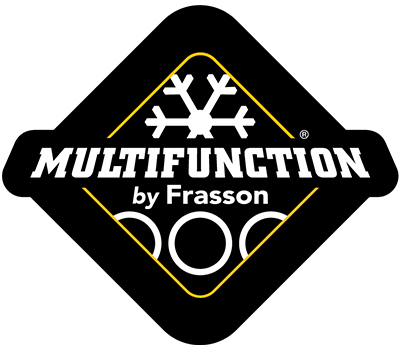 MULTIFUNCTION
Innovative sole Multifunction®, providing good grip and a 25% increased stability on slippery terrain, snow and ice. The technology of production of the sole Multifunction® is based on a completely new method intended mainly for shoes that will be used in harsh winter conditions. By injection and implement of textile elements into the sole, it caused the effect of "embedded crampons", which enhances traction on slippery surfaces and ensures increased durability and stability.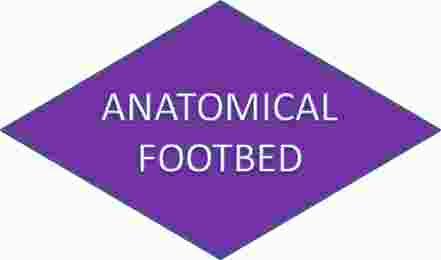 ANATOMICAL FOODBED
Anatomical shape of the insole of the shoe.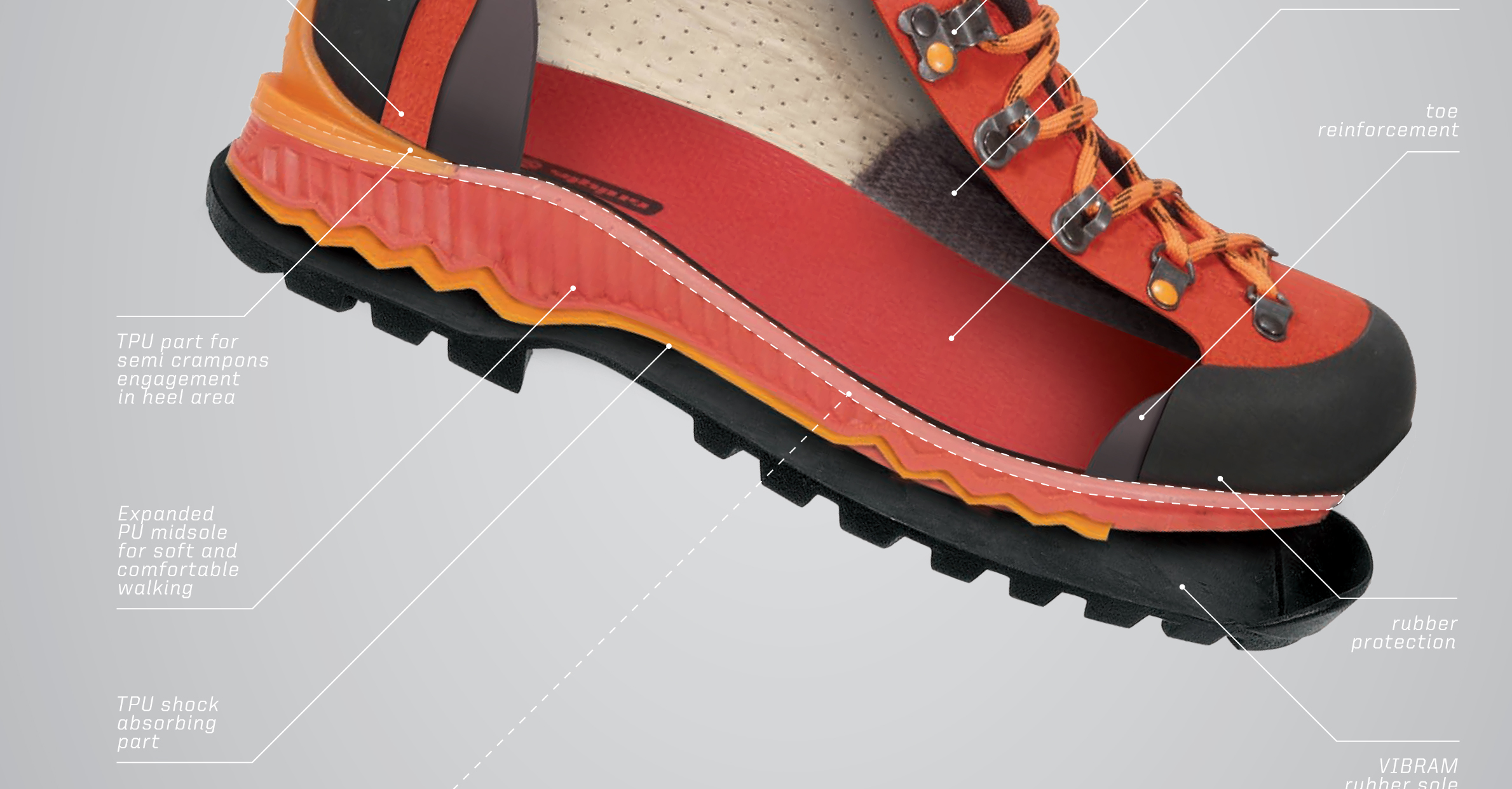 TPU SHOCK ABSORBING PART
Extra padding for absorbing vibrations in the sole.
Offers long-lasting comfort, combining great shock absorption with flexible freedom of movement.
Rubber provides the boot and the toe with effective protection from external elements,impacts, and rocks.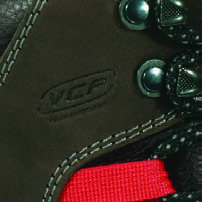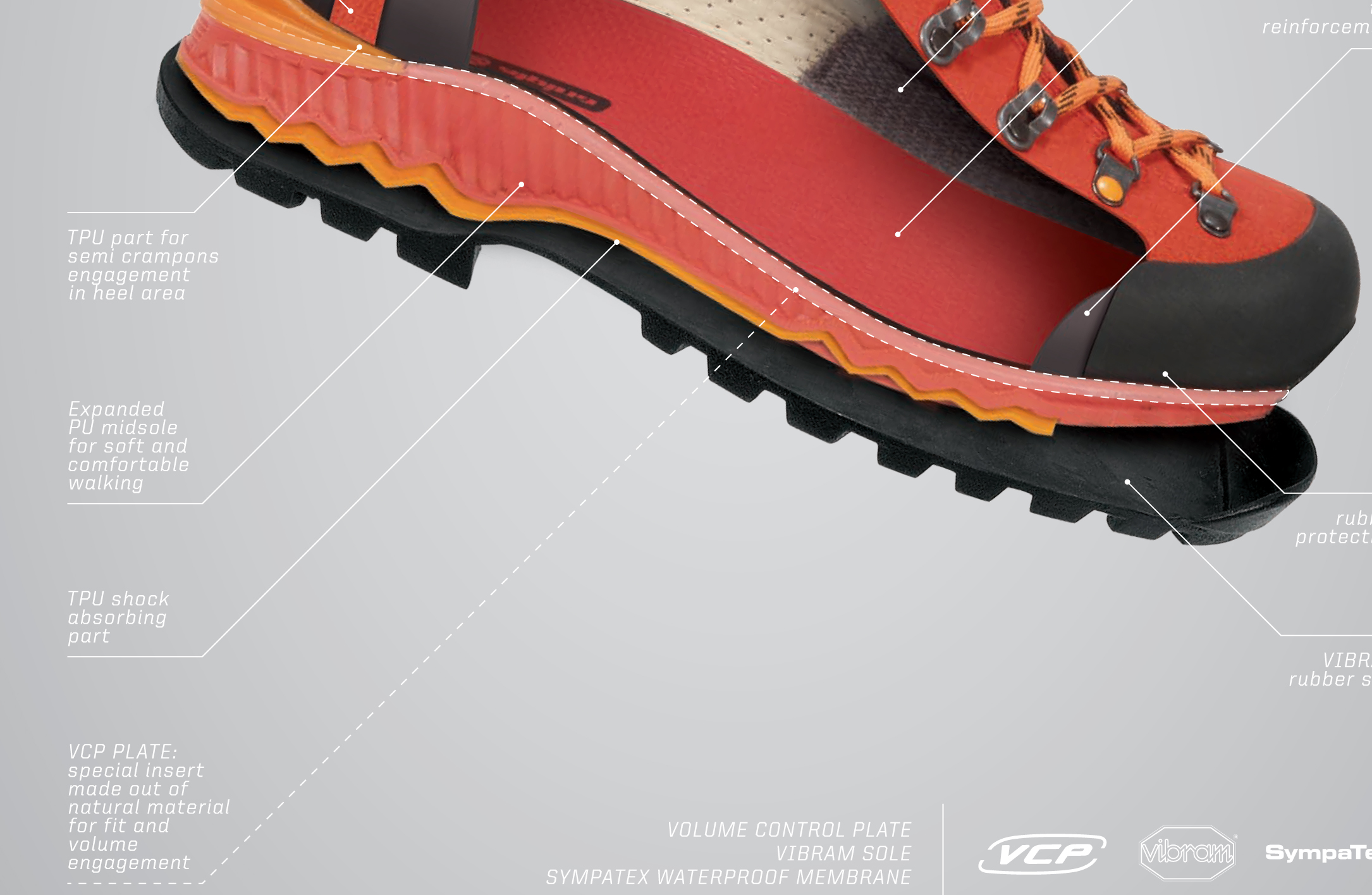 VCP - Volume control plate
The volume control plate, positioned under the insole, allows for precise adaptation of the volume independently for the left and right foot. If the plate is removed the shoe has greater volume.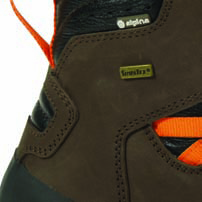 FLEX ZONE
In order to take the weight off the back part of the ankle,which carries most of the load during long treks up steep inclines,many ALPINA boots comewith a "flex zone"at the back. This alleviates pressure on the Achilles' tendon, which enables easier and more relaxed uphill walking.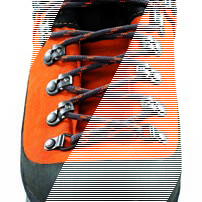 QUICK LACING SYSTEM
Quick and effective lacing,ensuring the most secure fit for the foot, is made possibly by an original solution that uses a ball-bearing device.Your step will be lighter and more precise.

ALL DAY COMFORT
Natural materials, special soles that cushion the step and airy membranes insure a comfortable feeling throughout the day- at work as well in your free time.
LADIES MODELS
For most of its footwear lines Alpina offers a wide spectrum of women's models in colors designed to please a woman's taste. Specially designed boot collars in our women's models are adapted for the more sensitive, lower, and more pronounced calves of women. Alpina's women's boots are made on the basis of a women's last, which is narrower and lower in the front and shaped to match the anatomy of the female foot.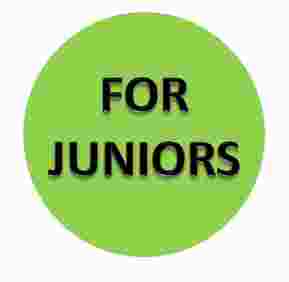 Alpina`s junior`s boots are made on the basis of a junior`s last, which is provided for free growth and natural evolution of junior`s feet.