Single touristic hammock Colibri orange 2in1
Your new travel companion: Light as a feather and with everything you need - that's how you can relax and enjoy the most beautiful spots in the world. 

Buy on leasing
Вземи желания продукт сега, избери подходяща за теб схема на изплащане:
Не е нужно да избираш, може да имаш всичко!
Купи на равни вноски стоки от 100 до 30000 лв., избери най-подходящата за теб вноска.
С TBI Pay, пазаруването е лесно, гъвкаво и напълно онлайн.
Контролът е в твоите ръце, не чакай.
Пазарувай!
Добави в количката
Заяви и купи сега
Откажи
Вземи желания продукт сега, с няколко лесни стъпки!
Можете да добавите избрания от Вас продукт в кошницата на магазина избирайки бутона 'Добави в количката'. След което в кошницата на магазина ще имате възможност да изберете метод на плащане 'На кредит с UniCredit'. Там ще можете да си изберете предпочитаните от Вас брой месечни вноски. Ще можете да видите 'Годишния Лихвен Процент', 'Годишния Процент на Разходите', както и 'Общата сума', която ще платите за лизинга. При желание за закупуване ще бъдете прехвърлени към страницата на UniCredit за завършване на процедурата по кандидатстване, след което ще бъдете уведоми за становището чрез СМС и имейл.
---
3 месеца
Вноска: 45.48 лв.
ГЛП: 30.00 %
ГПР: 34.44 %
4 месеца
Вноска: 34.53 лв.
ГЛП: 30.00 %
ГПР: 34.49 %
5 месеца
Вноска: 27.96 лв.
ГЛП: 30.00 %
ГПР: 34.48 %
6 месеца
Вноска: 23.58 лв.
ГЛП: 30.00 %
ГПР: 34.42 %
9 месеца
Вноска: 16.30 лв.
ГЛП: 30.00 %
ГПР: 34.55 %
10 месеца
Вноска: 14.84 лв.
ГЛП: 30.00 %
ГПР: 34.44 %
12 месеца
Вноска: 12.66 лв.
ГЛП: 30.00 %
ГПР: 34.42 %
18 месеца
Вноска: 9.05 лв.
ГЛП: 30.00 %
ГПР: 34.49 %
24 месеца
Вноска: 7.26 лв.
ГЛП: 30.00 %
ГПР: 34.43 %
30 месеца
Вноска: 6.21 лв.
ГЛП: 30.00 %
ГПР: 34.56 %
36 месеца
Вноска: 5.51 лв.
ГЛП: 30.00 %
ГПР: 34.41 %
Добави в количката
Откажи
C.C.Ver. 1.1.5
Features:
Bed width: 170 cm
Bed length: 270 cm
Carrying capacity: 180 kg
Tree-protecting Strap: Tree Protection: length: 130 cm, width: 4 cm | Full length: 320 cm
Country of origin: India
Material description: 100% polyamide | strap and rope: 100% polyester | hook: aluminium
Product weight: 0.7 kg
The new generation
The Colibri 3.0 is made of a skin-friendly, comfortable fabric, has tree-friendly straps and even more comfort thanks to the new design.
Easy and flexible suspensio
All Inclusive: With the ultra-light CrocodileHook aluminium hooks and tree-friendly fixing straps, height and length can be easily adjusted
Tree-friendly strap
Become one with nature: The extra wide strap protects the bark of the trees.
Single travel hammock
Comfortable travel hammock with a cloth width of 170 cm. For a perfect hammock experience, we recommend a diagonal lying position in which your body opens the cloth surface.
Light nylon fabric
The high-quality functional fabric made of Nylon Trilobal is super comfortable, wafer-thin and at the same time durable. Moreover it is breathable and dries quickly.
Integrated bag
The practical storage bag is not only ideal for transport, but also turns into a convenient storage compartment for a small book, your sunglasses or a snack, always ready to hand.
Extra wide tree strap
The 40 mm wide tree strap is easy to attach, provides optimum support and protects the tree bark.
CrocodileHook made of airplane aluminium
Intuitive and smart - With the CrocodileHooks developed by LA SIESTA and made of ultra-strong airplane aluminium, your travel hammock can be easily hung up and adjusted in height.
Picnic blanket
Simply practical: Spread out, the Colibri can be used perfectly as a picnic and beach blanket.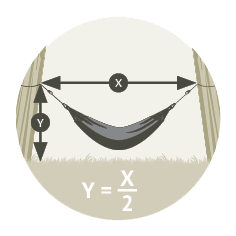 Required space
The distance necessary between the two suspension points can be determined by a simple rule of thumb: The suspension height (y) should be approximately one half of the suspension distance (x). If the distance between the suspension points is greater, the hammock must be mounted somewhat higher.
Reclining position
When you lay in the hammock diagonally, your body expands the surface area so the fabric does not constrict. In the diagonal position, there is optimal support of the back and pressure is removed from the spine. This position also makes rocking more pleasant.
Machine-washable
This hammock can be machine-washed: delicate cycle 30°C!
Do not tumble dry!
In order to preserve your product, line dry. Do not machine dry.
Protect from abrasion
Ensure that your hammock swings freely and does not rub on the ground.
Delivery to Bulgaria is made in 1 working day by the courier company Econt or Speedy, after we contact you by phone for order confirmation.
| | |
| --- | --- |
| Delivery to Sofia, Bul. Dondukov 42 Extreme sport shops | Free |
| Delivery to office Econt/Speedy for orders over 99 lv | Free |
| Delivery to address with Econt/Speedy for orders over 99 lv | 3,90 lv fixed price |
| Delivery to office with Econt/Speedy for orders up to 99 lv | 2,90 lv fixed price |
| Delivery to address with Econt/Speedy for orders up to 99 lv | 3,90 lv fixed price |
You can read more information about the terms of delivery here.
International delivery is made with Bulgarian Post, DPD, EMS, Econt. The delivery price depends on the weight of the order and the courier you choose.
Delivery time depends on the chosen courier.

In our online store we offer options for product replacement, product return and complaint in case of defect:
Product replacement
To replace a product, first you must return the product you received packaged and in a good commercial condition.

If there is a difference in the value you have paid, we will refund the overpaid amount by cash on delivery or by bank transfer or you will pay the difference.

Product return
You can return a product within 30 days of receiving the order. Send the product together with a completed form - electronic or paper. You need to pack the parcel well. The products must not show any signs of use or have a damaged commercial appearance. The returned products must be in their original packaging, as well as with the labels and accessories attached to them. Refunds are made within 14 working days from the date of receipt of the returned shipment

Compliant
A defective product which is in warranty period should be returned in clean condition, with a warranty card inluded, if possible in a package. In case of factory defect, the item will be repaired within 10 working days. Replacement of the item is possible in case of irreparable defect.

You can read more information about the conditions here.