Single Spreader Bar Hammock Alisio Toucan
preorder 2-5 Days

В наличност

- продуктът е наличен и може да бъде доставен до 2-3 дни

По поръчка

- продуктът не е наличен и може да бъде доставен до 7-14 дни

Изчерпан

- продуктът е изчерпан и не е достъпен за поръчка към момента
Buy on leasing
Вземи желания продукт сега, избери подходяща за теб схема на изплащане:
Искаш тази покупка сега, получаваш я веднага!
Купи стоки за сума от 40 до 400 лв., плати с 2 вноски, с 0% лихви и 0лв. такси.
По време на покупката плащаш само 25% от стойността и, а останалите 75% в рамките на следващите 30 дни изцяло онлайн.
Толкова е лесно!
Стъпка 1: Попълваш основни лични данни и нищо повече – име, телефон, ЕГН, имейл, адрес ,номер на лична карта.
Стъпка 2: Ценим времето ти и сме бързи – отговорът на заявката си получаваш до минути.
Стъпка 3: Минаваш през онлайн идентификация. Нищо страшно – изпращаш ни снимки на личната си карта от двете и страни и твое селфи.
Стъпка 4: Попълваш още малко данни - този път на личната ти кредитна/дебитна карта, чрез която ще се извърши автоматично погасяване на вноските ти. Бъди спокоен, данните ти са защитени и се съхраняват прилежно от лицензирания доставчик на платежни услуги Paynetics.
Стъпка 5: На финала сме - Подписваш договора в защитена платформа изцяло онлайн.

Сега ти си на ход!
46.74 лв.
46.74 лв.
46.74 лв.
46.74 лв.
Днес
до 1 месец
до 2 месеца
до 3 месеца
Поръчай и вземи сега, плати на 4 равни вноски!
Пазарувай за сума от 40 до 400 лв. - без лихви, без такси, без напрежение.
Плати 25% от стойността на поръчката веднага, а останалите 75% в рамките на 3 месеца на равни вноски.
Изплащането става автоматично, без усилия от твоя страна!
Просто опитай!
Лесно е:
Стъпка 1: Попълваш основни лични данни и нищо повече – име, телефон, ЕГН, имейл, адрес ,номер на лична карта.
Стъпка 2: Ценим времето ти и сме бързи – отговорът на заявката си получаваш до минути.
Стъпка 3: Минаваш през онлайн идентификация. Нищо страшно – изпращаш ни снимки на личната си карта от двете и страни и твое селфи.
Стъпка 4: Попълваш още малко данни - този път на личната ти кредитна/дебитна карта, чрез която ще се извърши автоматично погасяване на вноските ти. Бъди спокоен, данните ти са защитени и се съхраняват прилежно от лицензирания доставчик на платежни услуги Paynetics.
Стъпка 5: На финала сме - Подписваш договора в защитена платформа изцяло онлайн.

Сега ти си на ход!
Не е нужно да избираш, може да имаш всичко!
Купи на равни вноски стоки от 100 до 30000 лв., избери най-подходящата за теб вноска.
С TBI Pay, пазаруването е лесно, гъвкаво и напълно онлайн.
Контролът е в твоите ръце, не чакай.
Пазарувай!
Добави в количката
Заяви и купи сега
Откажи
Вземи желания продукт сега, с няколко лесни стъпки!
Можете да добавите избрания от Вас продукт в кошницата на магазина избирайки бутона 'Добави в количката'. След което в кошницата на магазина ще имате възможност да изберете метод на плащане 'На кредит с UniCredit'. Там ще можете да си изберете предпочитаните от Вас брой месечни вноски. Ще можете да видите 'Годишния Лихвен Процент', 'Годишния Процент на Разходите', както и 'Общата сума', която ще платите за лизинга. При желание за закупуване ще бъдете прехвърлени към страницата на UniCredit за завършване на процедурата по кандидатстване, след което ще бъдете уведоми за становището чрез СМС и имейл.
---
3 месеца
Вноска: 65.46 лв.
ГЛП: 30.00 %
ГПР: 34.51 %
4 месеца
Вноска: 49.69 лв.
ГЛП: 30.00 %
ГПР: 34.43 %
5 месеца
Вноска: 40.24 лв.
ГЛП: 30.00 %
ГПР: 34.48 %
6 месеца
Вноска: 33.94 лв.
ГЛП: 30.00 %
ГПР: 34.48 %
9 месеца
Вноска: 23.45 лв.
ГЛП: 30.00 %
ГПР: 34.43 %
10 месеца
Вноска: 21.36 лв.
ГЛП: 30.00 %
ГПР: 34.48 %
12 месеца
Вноска: 18.23 лв.
ГЛП: 30.00 %
ГПР: 34.56 %
18 месеца
Вноска: 13.02 лв.
ГЛП: 30.00 %
ГПР: 34.42 %
24 месеца
Вноска: 10.45 лв.
ГЛП: 30.00 %
ГПР: 34.45 %
30 месеца
Вноска: 8.93 лв.
ГЛП: 30.00 %
ГПР: 34.46 %
36 месеца
Вноска: 7.94 лв.
ГЛП: 30.00 %
ГПР: 34.54 %
Добави в количката
Откажи
C.C.Ver. 1.1.5
Quick Buy
Please fill your email to get your order confirmation.
We will contact you to finalize the order
Buy with 1 click
Product Details
Bed width: 140 cm
Bed length: 190 cm
Total length: 300 cm
Length of the bar: 80 cm
Required minimum distance: 300 cm
Required minimum height: 100 cm
Carrying capacity: 120 kg
Country of origin: Colombia
Fabric density (g/m²): 180
Material description: 100% polypropylene | spreader bar: bamboo (FSC™ certified)
Product weight: 1.5 kg
Single hammock with spreader bars
With its 140 cm bed width the spreader bar hammock combines the extraordinary comfort of a classic hammock with the decorative, visually appealing design of the spreader bar hammock—the best of both worlds! Very comfortable for one person.
Weatherproof fabric
Our functional fibre was specially developed for the particular requirements of outdoor hammocks. It is easy to maintain, quick-drying and weatherproof.
Spreader bar made of bamboo
High-quality bamboo: particularly robust and attractive. Thanks to its production in high-quality plate technology,it is exceptionally weatherproof and has a pleasantly smooth surface.
Certified wood from responsible forestry
The international certification system of the Forest Stewardship Council (FSC™) guarantees that the respective wood is sourced from ecologically and socially sustainable forestry.
FSC™-Licence Code: CO12427
Perfect weightlessness on 52 suspension cords
The quality and comfort of a hammock is measured by the number of suspension cords. More cords results in better weight distribution, increasing the overall durability and comfort of the hammock.
Handmade in Colombia
Handmade in Colombia by artisans using traditional methods. Top-quality, comfortable and beautiful.
Tear-resistant selvage
By doubling the weft threads, the reinforced edges are particularly tear-resistant.
Climate Neutral
During production and transportation of our hammocks generated emissions are offset by a recognized climate protection project.
Certified by Climate-Partner: ID 17238-2203-1001
Packaging
The hammock with spreader bars is packed in a practical bag. Practical tips and tricks regarding usage and care can be found on the banderole.
How and where can I attach my spreader bar hammock?
There are many ways to attach your spreader bar hammock: between two trees, two walls or two posts. Alternatively, you can mix and match options and hang your spreader bar hammock between a tree and a post, for example. It is also possible to hang it from the ceiling. The only thing that matters is the load-bearing capacity of the elements.
If none of these options are available to you, a hammock stand is a wonderful choice. You can place your stand wherever you like and move it around if necessary.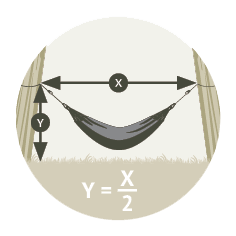 How much space do I need to attach my spreader bar hammock?
When attaching your spreader bar hammock, you should pay attention to the ratio of distance and height of the suspension points: The suspension height (y) should be one third of the suspension distance (x). If you increase the distance between the suspension points, you should also increase their height accordingly.
Additionally, make sure that your spreader bar hammock swings freely and does not touch the ground. This will protect it from damage and keep your new hammock beautiful for a long time.
What is the most comfortable way to lie in a spreader bar hammock?
In our Colombian spreader bar hammocks, you can position yourself either diagonally or lengthwise. Thanks to the spreader bars, hammock bed remains completely open in both cases, so you can relax all around.
Delivery to Bulgaria is made in 1 working day by the courier company Econt or Speedy, after we contact you by phone for order confirmation.
| | |
| --- | --- |
| Delivery to Sofia, Bul. Dondukov 42 Extreme sport shops | Free |
| Delivery to office Econt/Speedy for orders over 99 lv | Free |
| Delivery to address with Econt/Speedy for orders over 99 lv | 3,90 lv fixed price |
| Delivery to office with Econt/Speedy for orders up to 99 lv | 2,90 lv fixed price |
| Delivery to address with Econt/Speedy for orders up to 99 lv | 3,90 lv fixed price |
You can read more information about the terms of delivery here.
International delivery is made with Bulgarian Post, DPD, EMS, Econt. The delivery price depends on the weight of the order and the courier you choose.
Delivery time depends on the chosen courier.

In our online store we offer options for product replacement, product return and complaint in case of defect:
Product replacement
To replace a product, first you must return the product you received packaged and in a good commercial condition.

If there is a difference in the value you have paid, we will refund the overpaid amount by cash on delivery or by bank transfer or you will pay the difference.

Product return
You can return a product within 30 days of receiving the order. Send the product together with a completed form - electronic or paper. You need to pack the parcel well. The products must not show any signs of use or have a damaged commercial appearance. The returned products must be in their original packaging, as well as with the labels and accessories attached to them. Refunds are made within 14 working days from the date of receipt of the returned shipment. For orders paid by card the refund is on a card bank account.

Compliant
A defective product which is in warranty period should be returned in clean condition, with a warranty card inluded, if possible in a package. In case of factory defect, the item will be repaired within 10 working days. Replacement of the item is possible in case of irreparable defect.

You can read more information about the conditions here.